The world's first jet aircraft flew on 27 August 1939, a spectacular success for aviation. Hattingen-born Erich Warsitz was the man in the cockpit of the He 178. Today is the 100th anniversary of his birth. Warsitz was test pilot for the Heinkel aeronautical firm and tested new kinds of aircraft engines. He flew all types fitted in one way or another with rocket or jet propulsion, amongst them the rocket aircraft He 176. There was little romanticism about it all. Warsitz flew the He 178 jet at speeds up to 700 kms/hr and Lutz Warsitz, son of the flying ace, describes his father's career as "adventure and danger". "As a test pilot my father risked his life in every test, whether on the ground or in the air." On nine occasions he had to leap free and parachute down to save his life.
After the Second World War he continued flying, but only for pleasure. His son, who lives in Switzerland, does not believe his father had much nostalgia for his flying career even though it was "the finest and most exciting time of his life, and he spoke of it very often." Father and son flew only rarely together. "Sadly I never flew in an aircraft piloted by my father. He did accompany me on my first flight though - as a passenger on a scheduled flight," Lutz Warsitz recalls. Lutz flew only once in a modern sporting aircraft. "My esteem for the flying achievements of my father rose somewhat after that, especially since he had been testing purely experimental aircraft with untried new engines which could be very dangerous when they did the unexpected."
He collated memories of his father for his school-leaving certificate in the 1980s and carried out a series of interviews with him over a whole year. He published the work on the 100th anniversary of his father's birth as a memorial to him.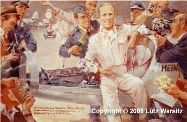 A celebrated pilot:
This is how artist Hans Liska pictured pilot Erich Warsitz after the first flight of the He 176 rocket.
.
.