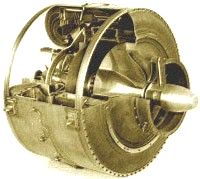 The big difficulties concerned the endurance of the materials for the turbine blades. The He S3-A had such poor thrust that no flight could be attempted. It was not long before the He-S3-B turbine (photo copyright: Deutsches Museum, Munich) was available and then installed in the He 178 at the beginning of August 1939.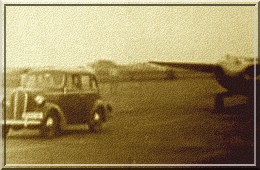 Erich Warsitz: "On August 27, 1939 we were ready. The machine was towed to the apron. Ernst Heinkel and his colleagues stared at the circuit I was to fly. By now it was recognized that by virtue of its longer flight endurance and greater operational reliability, it was the jet, and not the rocket aircraft, which belonged to the future."
.
Hans Pabst von Ohain - April 14, 1988: "This was the first flight in history by a jet propelled aircraft. Once again, enormously capable as an aviator and courageous, Erich Warsitz flew a new concept. In later years I have often reflected on him. I admire him still and am firmly convinced that his brave preparedness to sacrifice himself, tied to his technical and aeronautical skill, contributed significantly to the rapid development of the jet turbine and rockets for manned flight. His image in the National Air and Space Museum at Washington DC flying the first He 178 will for ever bear witness to that."
....

Heinkel He 178 - Audio Translation: click

.
In April 1983, Flugkapitän Erich Warsitz suffered a stroke and as a result died at the age of 76 years on July 12, 1983 at Barbengo in Switzerland.
.
Note:

..

Erich Warsitz's commentaries are taken from the book by his son Lutz Warsitz.

Find out more

here...
.