Videos
Have a look at some very rare and historical videos, such as the world's first jet flight and early rocket experiments of von Braun or Walter, as well as many others like the Me 163, the Me 262 and the He 280. You will find them on this website and under Archive...
.
Literature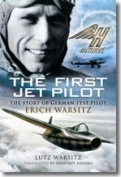 "This book is nothing short of a gem for anyone interested in real aviation history" -- Pacific Wings (NZ), April 2010
"More than just a good read. It is an historical document of inestimable value in the aviation pioneering field" -- World Airnews (ZA), October 2009
"A fascinating glimpse of a spectacular piloting career" -- Weider History Group (US), July 2010 .................More reviews...